Not A Fan Of Vegetables?
You actually may like vegetables but the rest of your family does not so you tend to not make them for dinner.
Or you are just bored eating vegetables and want a different way to consume those veggies.
Whatever the reason may be for not consuming enough vegetables there is a sneaky trick I have come up for my family members to eat their vegetables.
It even works with my 9 and 5 year old daughters.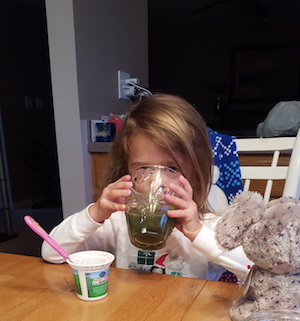 It is called nutrient extraction.
Now if I can get an 9 and 5 year old to drink a green smoothie every morning with breakfast then there is no reason why you as an adult can't get in your vegetables every day.
The deal breaker is it has to taste good. Correct?
Would you have an objection to consuming your vegetables this way if it tasted good?
Here is what I did to get my kids to consume their vegetables.
There is some initial expense to this sneaky trick. If you don't already own a blender designed to really grind up fruits and vegetables you will have to purchase one.
I own the Ninja blender, which works great in my opinion.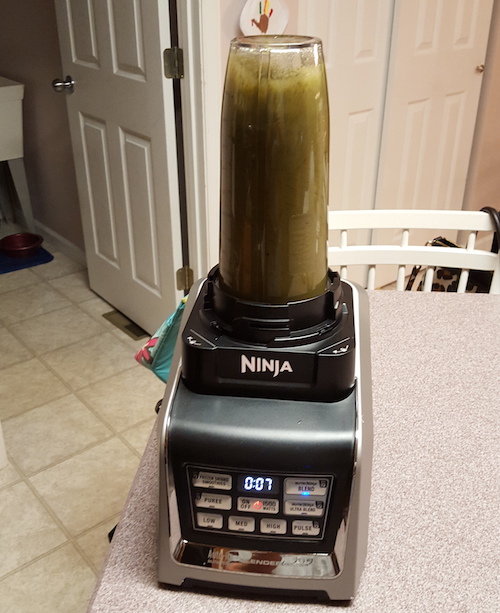 The recipe below is what I make for my children and they love it. I also love it because I know they are consuming superfoods each and every morning to start their day.
Now there are hundreds of different recipes and combinations you can make. I do switch up the vegetables quite often, the key to making it taste good each and every time is 1/2 of a certain fruit. I will reveal that fruit in just a little bit.
Here are the superfood vegetables and fruit that I used in this recipe.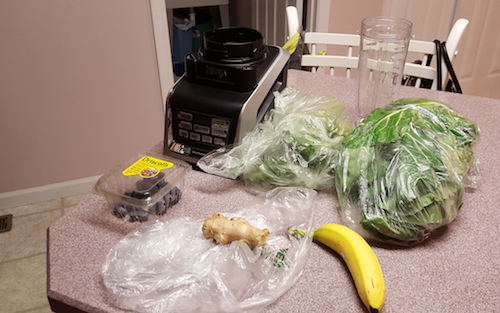 Kale

Collard Greens

Spinach

Ginger

Blueberries

Banana
What I have found I have needed to do since all 4 of us want a smoothie every morning is to make it all in the large blender or else I end up with no smoothie for myself.
If you are making it for yourself or for just 2 people you can use this quantity. It is simple to make larger amounts by doubling each fruit or vegetable.
1 cup Kale
1 cup Collard Greens
1/2 cup Spinach
1/2 Banana
1/2 cup Blueberries
1 tsp Ginger
1 cup Ice
1 cup Water
Now you can adjust the water and ice as you see fit based on how thick or thin you would like the smoothie.
So the key to making smoothie taste so good is the Banana. It has the right flavoring and thickness that will tone down any vegetables that may have a strong taste or any bitterness.
3 Additional Power Foods To Use In Your Smoothie
Ginger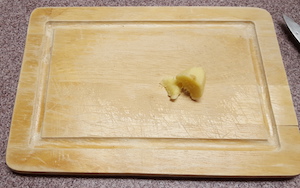 There are some amazing health benefits to Ginger
What I use in smoothies is about a half inch by half inch size of Ginger diced up. It not only helps with shutting down fat cell production, but also reduces pain and inflammation amongst other great benefits.
Oranges
You can pack in a days worth of Vitamin C in one smoothie by adding this citrus fruit. It is also a great fruit to provide great flavor to your smoothie.
Broccoli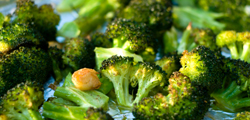 Considered one of the healthiest foods in the world if you want to boost the health benefits of your smoothie then work in some Broccoli. It is a great detoxifier and wonderful at reducing internal inflammation. Here are some great benefits of Broccoli and why you should be consuming more of this vegetable.
Lower Your Cholesterol Levels

Great Detoxifier

Increase Vitamin D Levels

Digestive Support

Cardiovascular Support

Eye Health
You can also experiment with Strawberries, Cucumbers, Carrots, Apples and many other vegetables and fruits.
You will find just how many different fruits and vegetables you can use in a recipe to fit your taste profile. The best part about it is that you are consuming numerous fruits and vegetables every day and improving your health and reducing your chances of illness or disease.
Do You Know That All 6 Fat Burning Hormones Must Pass Through Your Liver To Actually Work?
If your liver is stressed or constantly trying to filter out toxins do you think it is going to let these fat burning hormones pass through and do their job?
I am pretty sure you know the answer to that question.
If you really want to reach your ideal weight then it is a must that you optimize the function of your liver. Take as much stress off it as you can so it can do its job by letting all 6 fat burning hormones pass through.
Think of it as monopoly and the Liver is GO. These hormones must pass GO to be able to do their job.
Here are 14 Foods that can help optimize your liver and de-stress it for optimal function.
About Jayson Hunter & Jaylab Pro
Jaylab Pro was founded by Registered Dietitian Jayson Hunter. Jayson has been recognized as one of America's foremost weight loss experts by America's Premier Experts™. He has also been featured in USA Today for this accomplishment. Jayson is also a best-selling author having co-authored multiple books in health & fitness and business growth. Jayson and the Jaylab Pro team are proud to create content that helps improve the lives of millions of people around the world. We hope you enjoy it just as much as others have.